At least for the next few blog posts... Ok, ok, let's be positive: this is just the first of many blog post about crafts. At least I'm frequently posting pictures on
Instagram
...
follow me there
, if you want to be updated, just in case.
I will not make any promises, but I took my time redesigning the logo, the website and the concept behind it, and for the first time I feel really comfortable with the results.
To design the logo I used several free vector graphics from
Freepik
and
Balasoiu
and I recomposed them to make my own image. You can find more of their work at
Freepik.com
.
The website template is an adaptation from the
Prologue
theme designed by
HTML5 UP
.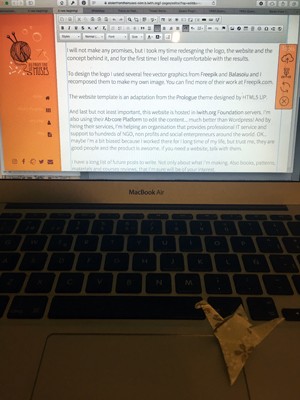 And last but not least important, this website is hosted in
Iwith.org Foundation
servers. I'm also using their
Ab·core Platform
to edit the content... much better than Wordpress! And by hiring their services, I'm helping an organisation that provides professional IT service and support to hundreds of NGO, non profits and social enterpreneurs around the world. OK... maybe I'm a bit biased because I worked there for I long time of my life, but trust me, they are good people and the product is awesome. If you need a website, talk with them.
I have a long list of future posts to write. Not only about what I'm making. Also books, patterns, materials and courses reviews, that I'm sure will be of your interest.
I will always write
my most sincere opinion
, even if in some cases I may put affiliated links: if the material is crap, I will tell you that it is crap, so you don't lose your time and money (but if you decide to ignore my conclusions, please, click the link to buy... pleeeeeeaaaaseeee).
Right now, my favorite crafts or those that are taking most of my time are knitting, soapmaking, embroidery, bobbin lace, pattern drafting and sewing. I'm also involved in a personal challenge to make 1000 paper origami cranes... so you may see some posts about origami too. But don't be surprised if suddenly I take the gouges again and do some woodworking or I get my hands dirty creating some pottery. I love to try all kind of crafts and sooner or later they will pass through my hands!
Finally, if you don't want to miss anything about my crafts,
follow me
in my social networks:
Instagram
,
Facebook,
Twitter
and, if you knit or crochet, don't hesitate to connect with me in
Ravelry
!
See you while I'm not crafting!