But first things first. For those who don't know what is
Bletchley Park
, let me give you some background to the story that kept me busy this past summer.
During the World War Two, a group of British women and men worked togheter to break the secret codes used by the Axis Powers in their communications. One of their major successes was codebreaking the
Enigma
, the Germans' most sophisticated coding machine. It is said that this fact shortened the war and defined its final outcome.
The place where they developed their mission was located in Milton Keynes, 80 Km North West of London:
Bletchley Park
.
Nowadays,
Bletchley Park
, considered the birthplace of modern Information Technologies and Computing, is a museum that explains the lives and achievements of the codebreakers in the very same place History took place.
Being a History lover (and a University graduate in History), as soon as I saw
Bletchley Park
calling for knitters, I knew that I had to read the post... and contribute in whatever they needed. And it couldn't be more enjoyable! The post was about their campaing "
Knit one, post one
" and they wanted volunteers to knit and donate garments and accessories from authentic 1940s patterns to help set-dress their collection.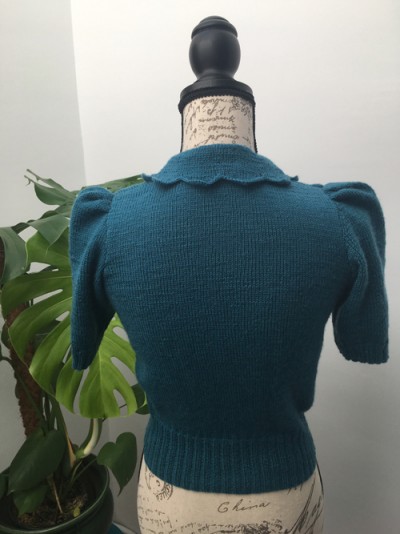 I have never followed a vintage pattern, but it couldn't be so different than present patterns, righ? Oh, how innocent I was 3 months ago...
As requested, I contacted them and they send me some forms to fill and a large list of places where I can find authentic vintage patterns... Oh-my... I discovered a whole new (old?) world of creativity and fashion, and now I don't have a way back. Do not underestimate me. I consider myself pretty instructed in the History of Fashion. As part of my love for History and my background as shoemaker, I have read a lot about fashion in the past, but usually I had more interest in centuries ago. I have never spend much time in XX Century and it surprised me a lot how "modern" jumpers and cardigans of the forties may look.
I don't lie if I say that I spend three whole days browsing patterns, opening tens of tabs and being unable to shorten the list of favorites under the top 50. What a wonderful nightmare!
Finally I set up a system to cut the list:
- if I had to dedicate my free hours to something that have to be displayed, it should be something worth the time. This way gloves, hats, scarfs and little or unnoticeable wearables drop off the list.
- if I had to spend my summer working with warm yarn (hey, I live near Barcelona, with enjoyable temperatures between 35ºC and 40ºC this year), it should be something fun, different, with interesting patterns and attractive to knit. This way, plain, muted and useful knits in the WWII front, leave their place to more colorfoul pieces. This also allowed me to forget creepy and depressing knits, like covers for amputated legs.
- if I had to donate such outstanding piece of garment, it should be something that I would not wear... because if not... oh, the temptations...
That reduced the list to just 18 patterns. Not bad, uh? I sent an email to my hubby with the list of links and told him to choose one of them for me... he choosed
this one
, and I said "thanks, I think that I will knit
this other one
". What would I do without his help!
Subversive femme
(the amazing website where I found the chosen pattern) not only posts lots of vintage sewing and knitting patterns from old reviews, but also shows how she makes, adapts and wears these garments. Don't miss her wonderful site!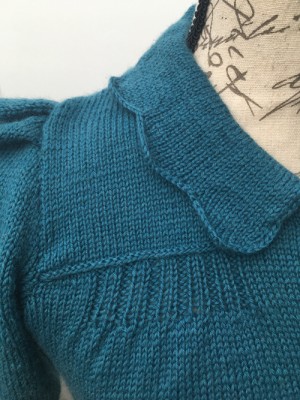 Although this pattern,
design No. 1486 of the Australian Woolworths knitting book No. 5
, looks very plain, mainly stockinette stitch, it has puffy sleeves and a scalloped collar that I thought would be a challenge... and it's soooo cheesy that I can never wear something like it!
In the end, knitting the scalloped collar, the breast decorations and the puffy sleeves was not a challenge at all. But it was funny anyway.
The real challenge of this project was the pattern itself
, how it was written. And I imagine that it's the same for all vintage patterns. The first surprise was that there was not a list of different sizes: there's just the fitting for this cardigan. If you have another bust or shoulders size, you have to do all the maths. That's not a problem for me (specially in this case: I don't know who will wear the cardigan, so I sticked to the pattern), but I can see that it's not a straightforward pattern written for everybody. In more than one ocasion I was happy to have a good background knitting jumpers and cardigans because the instructions barely guide you: what I'm doing? why I have to cast off 3 stitches now? oh, I'm doing the buttonholes, right... cast off 3 stitches again? oh, yes, the facing... now I have to find a second pair of needles and cast on 31 stitches, why?... and so on.
The best part was while knitting the left front: "Work to correspond with right front, working shaping at opposite end and omitting buttonholes"... just that there are not the same number of stitches and the counting goes in the reverse... Is not rocket science, I know, but it's not also something you want to do while watching Netflix.
Modern patterns have spoiled us
!
If you are knitting this pattern and are having trouble with this part, here's the sort-cut for these 8 rows:
- k8, p8, (p2tog, p1) 11 times, p12
- k2tog, k10, p2, (k2, p2) 5 times, k16
- k8, p8, k2, (p2, k2) 5 times, p11
- k2tog, k9, p2, (k2, p2) 5 times, k16
- k8, p8, k2, (p2, k2) 5 times, p10
- k2tog, k8, p2, (k2, p2) 5 times, k16
- k8, p8, k2, (p2, k2) 5 times, p9
- k9, p2, (k2, p2) 5 times, k16
By the way, if you need any help knitting this same pattern, don't hesitate to ask me!
Another funny part was the instructions for the final make up: "Sew up seams, pleat sleeves around armholes." Any indication about how many pleats or size? No, thanks, I will deal with that myself!
One more known awkwardness with vintage patterns is that 1940s yarn is very difficult to find today, and needle sizes use a different range.
Bletchley Park
allowed us to use modern yarn, but the weights are very different now from the ones written in the patterns. So
I had to knit several gauges
until I found the yarn weight and needles that will suit the pattern to make it look more authentic. The winner was a
King Cole LTD. 4 Ply Merino Blend
, 100% superwash wool, that I knitted with my
2mm
and
2'5mm Knitpro Zing fixed circular knitting needles
.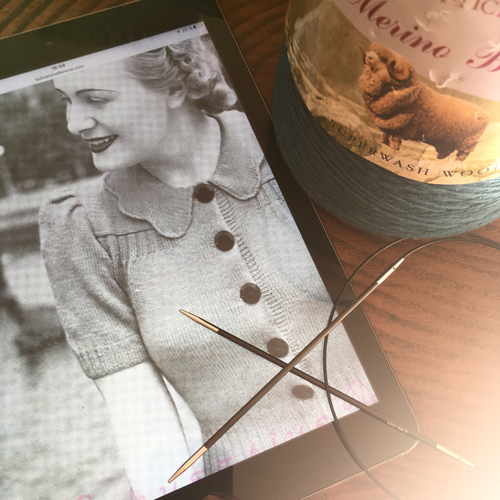 On a funny side, initially I was looking for an apple green yarn, that's how I imagined the color of this cardigan. Not being native English speaker, I didn't notice that
"Kingfisher" was a color and not part of the brand until I found a lovely "dark turquoise" (as I called it) yarn in Amazon in the exact yarn weight I was looking for... and its color was "kingfisher"! It's a funny thing that happens with black and white pictures, that colors might seem lighter than they really are. So I can say that the cardigan I knitted should be practically identical to the original one.

I enjoyed a lot taking part in this campaing and discovering the fashion of the 40s, and surely I will knit more garments of this era (slightly adapted to fit me and my time). And most of all: I'm very proud of the final result! It looks very similar to the original picture, don't you think?
Save
Save