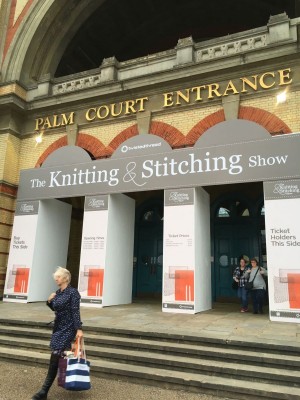 The most similar craft shows I've ever visited are the
Creativa
and the
Handmade Festival
both in Barcelona, and it's difficult not to make unfair comparisons.
Don't get me wrong, these are big shows and it's amazing to be able to find so many crafty things in just one place, but in the last years I've felt disenchanted... and
The Knitting and Stitching Show
just completely blew the spell.
What I really liked about
The Knitting and Stitching Show
is that although it is enormous and there are
lots of stands
, all of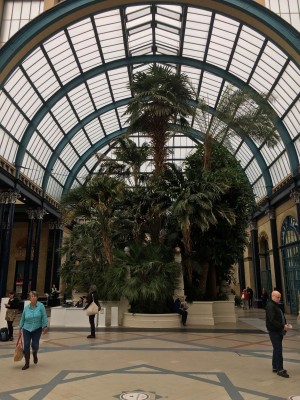 them have their
distinctive personality
. And even if there are a lot dedicated to yarn or sewing or embroidery, each one have their distinguishing products, and you don't get the idea that "everybody has the same". And there are not only "big brands" everywhere.
I also appreciated the large amount of
independent artisans
, and even groups of people that are there just for the love and
proselytism of their hobby
, not to promote any shop or brand.
I also have to say that I went on the first day of the show, Wednesday, and maybe for this reason I could walk comfortably, being able to pay good attention to everything, without having to deal with a crowd to reach any part... this is possibly a downside for vendors, but for me it was just wonderful!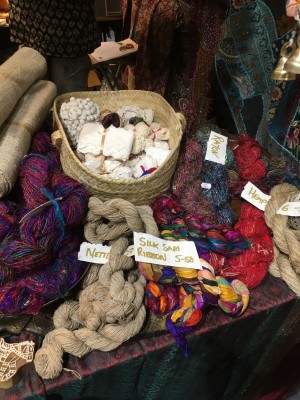 I arrived at 10am, ready to squeeze the day until the last second.
As soon as I was granted access, I went directly to the
Spin City
stand.
Before buying my tickets on August, I checked some of the vendors to see what could I expect. And that's how arrived to a
Youtube
video of Louise teaching how to spin... I was instantly hooked to this craft! So I run straight forward to her stall, like a mad stalker, and told her "I watched your video, I want to spin, sell me fibers and tools!"... She was kind enough to not be scared, made a live demo about how to spin her luxurious batts and suggested me to join the
Spin City Chatter on Facebook
, that I suggest you to do too if you want to share your progress and learn more about
spinnning
.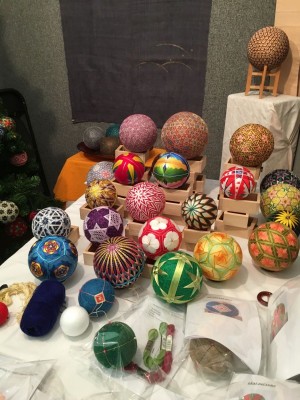 After that, I was wandering through fibers and cloths, when I suddenly saw a familiar face:
Felicity J. Warnes
! Felicity is the owner of
the best fashion bookshop in the world
.
The Old Bookshop
is in Enfield, north of London, and opens by appointment only, but I've spent lots of hours there, browsing unique books and vintage magazines about costume, fashion, jewellery, embroidery and textiles. Her 20,000 books are worth the visit. I know it for the fashion side of my interests, so I haven't connected ends and wasn't expecting her there. It was a nice surprise, I met her husband too, we had a nice chat and I ended buying a vintage knitting book... not what I usually buy from her but I was probably still influenced by the
Bletchley Park Cardigan
research.
If you like these kind of books but your quick visit to London doesn't allow you to to arrange a meeting with her, you can go to
St Cyr Vintage
, in Camden Market, her daughter's shop. From the outside it seems just another Camden shop that "only" sells vintage clothes, but in the back of the store they have a nice selection of books.
Oh, and Felicity is also the writter of "
Nineteenth Century Women's Fashion
", a wonderful book with original hand coloured fashion plates from the Victorian and Edwardian high style couture trends. Lovely!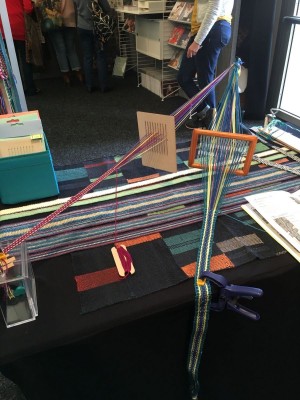 Another wonderful chat I had was with
Ruth MacGregor
in the (if I remember well) "
The Association of Guilds of Weavers, Spinners and Dyers
" stall. They had several looms and were explaining what they are and how they work. Altought I haven't tried yet, I have been interested in
tablet weaving
from time ago and their stall gave me the oportunity to ask all the questions that I had in mind, and Ruth was the kind person who attended me and answered absolutely everything. Sincerely, I wasn't expecting to buy anything there, but her attention was so considerate that I needed to compensate it in some way. So I ended buying a booklet about Basic two-colour patterns in tablet weaving, written by Ruth, and a set of 20 tablets. I have not opened them yet, but I'm aiming to do some tablet weaving soon.
One more amazing stand with beautiful attentive people was the
Golden Hinde Goldwork
, a small family run business specialized in
Goldwork Embroidery
. I walked around their stand three or four times during the day, tempted by a gorgeous
£50.00 goldwork dragon kit
. But I promised myself (and my hubby, who was completely scared to let me on my own, completely unsurveilled with a debit card in the crafts paradise) to don't spend too much money. But, oh, the temptations!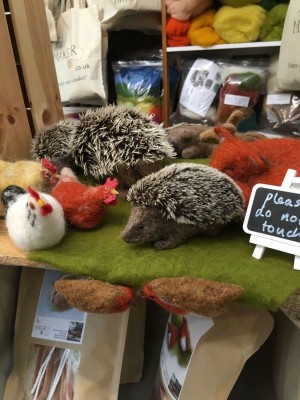 Instead of getting mad with my doubtful and unspending visits, they greet me every time and made cheerful comments about my recurrent visits... and by the end of the day, I made my last purchase with them: not the dragon kit, but a beautiful seahorse kit.
I will not detail here all the stalls I visited, all the purchases I made or all the people I chatted with, because it would be a very long post, but I just want to mention the stunning
Latvian gloves kits
, the adorable
felted animals
stall or meeting
Jan Horox
whose dollmaking books were among the firsts I bought when I began making dolls years and years ago.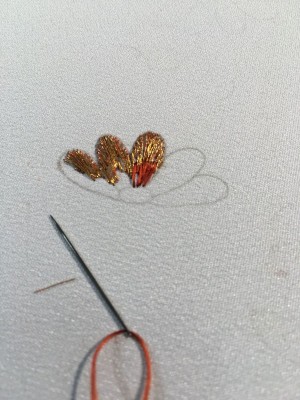 A common thing in this kind of events are the
workshops
, usually the main reason why I'm interested to assist. When I bought my tickets in August, most of the workshops were already full, something that surprised me a lot. In spite of that, I was able to enroll to the
Japanese embroidery
with
Midori Matsushima
and
Tambour for beginners
with
Sylvia Fairhurst
.
The place where the workshops were imparted was a bit cool, but functional. Maybe too noisy also, but the teachers made their best to made themselves heard. I liked the workshops, and I learned a lot in just 1 or 2 hours (in fact I'm planning to assist to some of Midori's workshops in London Bridge in the future), but it was a little bit discouraging leaving the room without something made by ourselves. Let me clarify.
In the case of the Japanese embroidery workshop, we had to leave our embroidered pieces (just learning examples, nothing fancy, but our trials, errors and successes) there. I completely understand why: the fabric was in a big hoop that was not included in the price of the workshop, but I'm sure a solution could have been found to not let people leave with empty hands.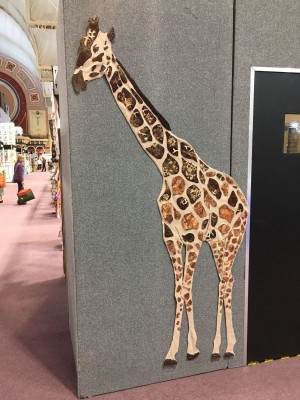 In the case of the tambour embroidery workshop, that I enjoyed a lot, as Sylvia said this is a craft that requires lots of practicing and frustration before attempting a nice result. So we spend long time practicing stitches and undoing, and doing again, and now testing with beads,... and at the end we embroidered our design with just 1 color thread that we haven't had time to finish. Maybe for that reason the workshop lasts 2 hours, but in my opinion it was too long for the result (even if I insist that I learned a lot!) and maybe, for this kind of event, it would have been better to spend just 1 hour and go straight for the design, making mistakes and learning along the way. That said, I'm sure that to really learn this technique one may need years of practice, but I think this is not the target of this kind of event.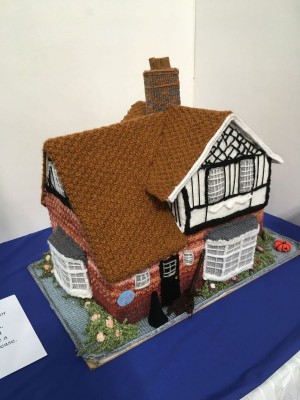 Aside from stalls and workshops,
The Knitting & Stitching Show
has a considerable segment dedicated to
exhibitions
: student designs, the tree bark cloth expo,
the knitted buildings by the Dolphin WI
, charity projects...
I discovered a lot of interesting things, new ways and surfaces to embroider, curious materials, prodigious knits,... that made my visit a plus: it made me feel that I was expected there not only as a customer, to buy, but also to appreciate and share the love of crafts. And this is very important to me, because I think that this is what makes the experience so special, for me,
The Knitting and Stitching Show was not only a "comercial fair", and I appreciatted it
.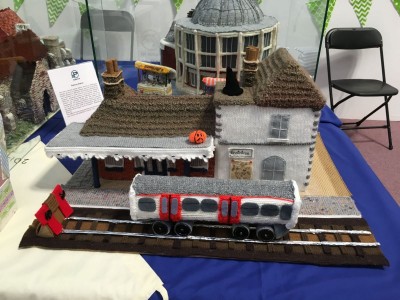 Save
Save